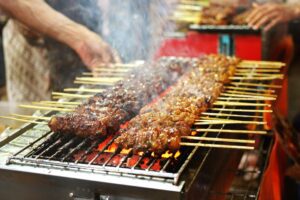 Street food in Morocco is prepared food or beverages that are sold by hawkers, or street vendors, on the streets or in other public settings like markets or fairs. It is frequently offered out of a mobile food stall. For some delicious, inexpensive treats, the seemingly infinite number of snack carts you'll find in most medinas are a wonderful way to interact with locals and taste some fast food, Moroccan style. Street food generally ranges 1-10 Dh. This is a taste of true local flavor.
   Moroccan street food
One of the more commun street foods is a snall soup. Known as babboosh in most of Morocco and as aghlal or ghoulal in the  north. Steaming bowls of this brothy treat are for the escargot lover. The snails are typically seasoned with a warm mix of spices, such as licorice, cinnamon, bay leaves, and the spice blend Ras el hanoot.
In the north, you might see street vendors with large, round, flan-looking pies on hot plates.
This is caliente ( derived from the spanish word for « hot »), a savory treat made of chickpeas. You can ask for more  spices to shake on the caliente yourself.
Another chickpea treat is hoomus. This steamed chickpea snackis seasoned with generous amounts of salt and cumin. It's a bit like popcorn and made to be eaten on the go.
A more filling treat is bissara, generally made with fava beans, though sometimes with split peas as well. This is thick, hearty soup, popular with sailors for its rumored qualities to help rheumatism. Usually this sailor staple is served with a half loaf of Morocco round bread and plenty of olive oil and chili pepper.
Popular barbacues sell brochettes of seasoned chicken and beef, and other vendors sell tropical fruits by the slice. For some energy on the go, consider the local nut who'll be selling a variety of roasted nuts—- such as walnuts, almonds, and cashews— that can be had for peanuts, bad puns fully intended.
Street food in Morocco