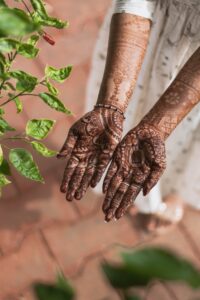 Moroccan culture and identity
Henna application is a beautiful deed that represents centuries of heritage. It is one of the most natural art forms. It has gradually become a symbol of Moroccan culture and identity. It is mainly tattooed on the hands and feet, but it is also used as a natural hair dye for aged women. However, the rituals vary by location.
The Henna rituals date back to Morocco's original Amazigh tribes and have played a significant role in most major Moroccan celebrations. Particularly at crucial festivals like circumcisions and marriages. The hennaya or neggafa, a professional Moroccan artist, creates symbolic floral or geometric motifs on the bride's hands and feet during marriage ceremonies. The bride's friends and relatives who are involved in the ritual will also have henna tattoos, as is customary in many Amazigh cultures. It is thought to provide the bride good health and luck, as well as protect her from harm.
Healing properties
Although henna is considered sacred in Morocco. You do not need to attend a festival or get married to benefit from its healing properties. People with a book of designs showcasing examples of henna art will most likely approach you in any local souk. You can either pick from those options or suggest your own.
Depending on where you go in Morocco, the designs differ quite a bit. In the north, elaborate henna patterns with interweaving leaves of Islamic art are common. In the south, expect more bold and passionate layered henna designs. That extend all the way to the fingertips, over the palms of the hands, and all the way down the bottoms of the feet.
Henna might take anywhere from 20 minutes to an hour to apply. Once it's done, the artist will typically squeeze lime juice and sugar over the paste to assist release the reddish-brown color in the powder and speed up the peeling process once it's dry.
Anyone who uses black henna should be cautious because it might cause allergic responses. And does not provide the same health advantages as conventional red-brown one.