6 Days Imperial cites tour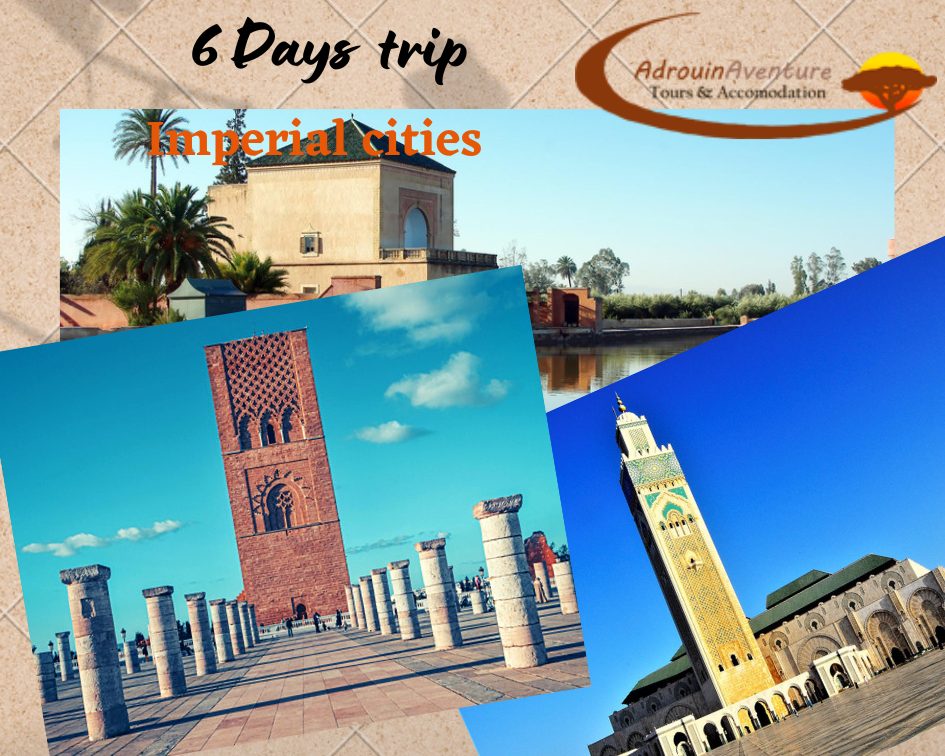 Day 1: Casablanca, Rabat, Fes
We'll start exploring this fascinating city after breakfast. We'll go to the United Nations Square, the Anfa Residential Quarter, and Hassan II's magnificent Mosque. Then we'll travel to Rabat, which is nestled in a lush, amber-colored terrain that blends old history with modern Moroccan culture. We'll go to Fes for the night after seeing the Royal Palace, Chellah Ruins, Hassan Tower, Mohamed V Mausoleum, and the Oudayas Gardens.
Day 2:  Fes
Today, we'll visit Morocco's oldest imperial city, which has over 10.000 little streets and the world's largest "medina" (old city) and souks. The Bab Boujloud Gate, Bou Inania Medersa, Moulay Idriss Mausoleum, Andalusian and Quaraouiyine Mosques, Najjarine Square, and the Spice Market are just a few of the sights to see. Today's destinations will be Atarine Medersa, Karaouine Medina's environs, and Mellah. If time permits, we'll also make a visit to the local leather and ceramics manufacturers in Fes to learn more about these ancient crafts. Stay in Fes for the night.
Day 3: Fes – Ifrane  – Azrou  –  Marrakech :
We will depart Fez after breakfast and travel across the Middle Atlas region. We'll drive through Ifrane and the Azrou cedar forests, stopping to hand-feed the monkeys. We'll keep going to Marrakech. We'll arrive in Marrakech in the afternoon and begin exploring this amazing city. Marrakech is the meeting place of Arab city culture and Berber mountain village culture; it is here that exhausted sub-Saharan traders (bringing gold, salt, and slaves) would sell their commodities to merchants who would subsequently transport them to Europe. We'll go to Djemaa el Fna Square today, which is packed with storytellers, snake charmers, acrobats, singers, and traditional dancers. Stay in Marrakech for the night.
Day 4: Marrakech
Marrakech throws a magical spell, framed by the snowy peaks of the Atlas, with rose-colored ramparts and a thousand-year-old palm grove. We'll begin our exploration of Marrakech after breakfast, with stops at Menara Gardens, Koutoubia Mosque, Saadian Tumbs, Bahia Palace, and Dar Si Said Museum. Afternoon free to explore more of this fascinating city.
Day 5 : Marrakech – Essaouira Beach :
After breakfast, drive for Essaouira, where you will have the day to see the medina, which is rich of craftsmen, as well as the city's ramparts and Portuguese beaches.
Day 6 : Essaouira – El Jadida- Casablanca :
Breakfast is served in the hotel. Continue along the shore, enjoying beach games until we reach Al Jadida. The day will end with a visit to the old Portuguese water tank and a stop in Casablanca.