5 days trip to Essaouira & Rose Valley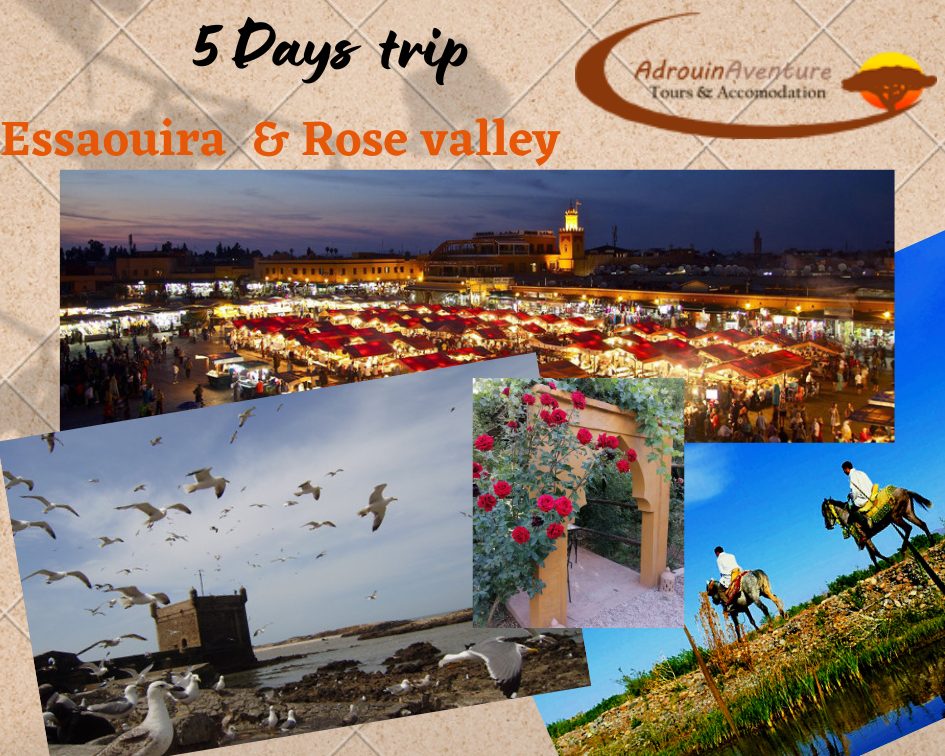 Day 1: Marrakech  –  Essaouira.
After breakfast, we drive to Essaouira, one of Morocco's most interesting city, situated close to the Atlantic Ocean. We'll spend the night in Essaouira this evening.
Day 2: Essaouira.
Free day in this fascinating town. Today, you can go wind surfing or just relax on the beach. Get lost in the medina's winding alleys, white washed buildings, peaceful squares, charming cafes, and artists working in little workshops. It's also fun to try grilled sardines and fish in the Essaouira harbor.
Day 3 : Essaouira –  Agadir – Taroudant.
Following a picturesque journey along the Atlantic coast via "Argane Tree Forests" and "Banana Plantations," We'll arrive in Taroudant, a Berber market town in the lush Souss Valley, a key crossroads on the Trans-Sahara caravan routes. Before settling into our hotel, we'll tour the town's ramparts and the main "souk," which is a marketplace for Berber jewelry.
Day 4: Taroudant  – Taliouine – Tazenakht  – Ouarzazate  – Rose Valley.
We have a long day ahead of us. We'll travel through the High Atlas Mountains today, passing through Oasis, palmeraies, Berber settlements, and kasbahs on our way to Rose Valley. We'll go through Taliouine. The city is surrounded by medieval walls that are most beautiful at sunset, when the setting sun brings out the gold, pink, and orange colors, followed by Tazenakht and Ouarzazate. Klaat Mgouna is a small village in Morocco that displays the country's unique and traditional culture. We'll be staying in RIAD TAZAWA this evening.
Day 5 : Rose  Valley – Ait benhadou- Marrakech.
Today we'll visit Kasbah Ait Ben Haddou, one of the most authentic and well-kept towns in the Atlas Mountains. Then we'll travel to Marrakech via the High Atlas mountain range and the Tizi n Tichka pass, which is 2260 meters high. Offering stunning views and distinctive countryside. We'll arrive in Marrakech in the afternoon and begin exploring this amazing city. Marrakech is the meeting place of Arab city culture and Berber mountain village culture; it is here that exhausted sub-Saharan traders (bringing gold, salt, and slaves) would sell their commodities to merchants who would subsequently transport them to Europe. We'll go to Djemaa el Fna Square today, which is packed with storytellers, snake charmers, acrobats, musicians, and traditional dancers.