3 Days trip to Erg Chebbi desert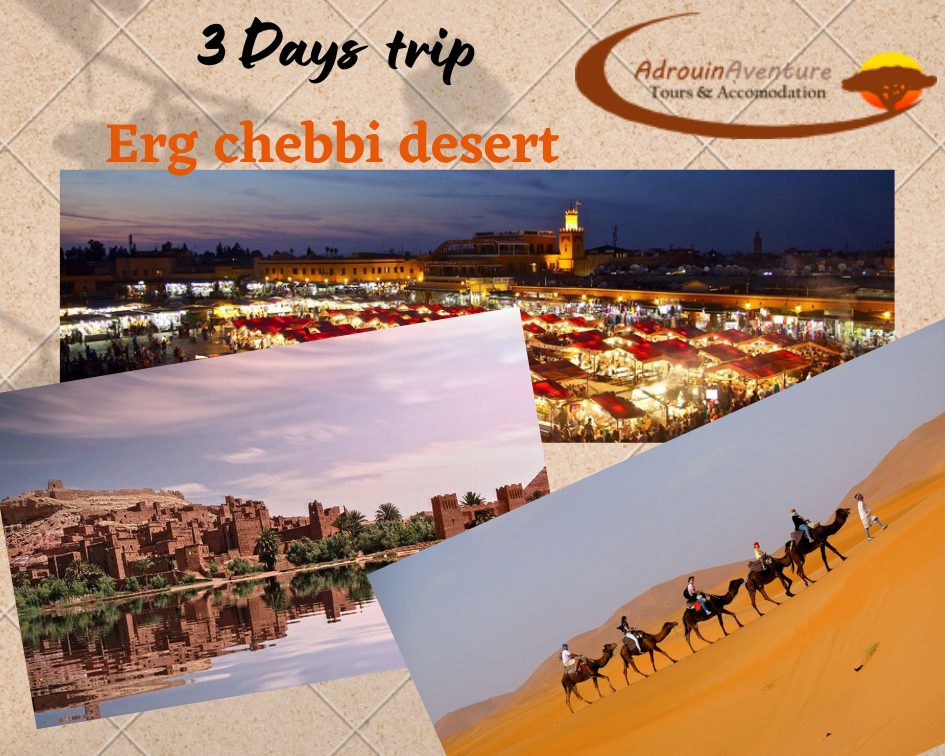 Day 1: Marrakech – Ait Ben Haddou – Roses valley.
Leave early morning from Marrakech towards the high Atlas. We cross the T'ichka Pass offering spectacular landscapes with different colours and the Berber villages along the way. Then, visit one of the best preserved and most spectacular kasbahs in Morocco. The fortified village of Ait Benhadou a famous site for Hollywood films. In fact, Lawrence of Arabia. The Last Temptation of Christ, Kundun, Gladiator. Black Hawk Down and Kingdom of Heaven, have all been used as locations. After midday we drive to Skoura where we'll have a quick 20 minutes visit of the Amredhyle Kasbah, one of the wonders of the southern "Route of the thousand kasbahs". Continuing our journey to the fascinating Valley of the Roses and its fabulous rose Plantations .
Diner and overnight at hotel.
Day 2: Roses valley- Todra Gorges- Erg chebbi.
After breakfast and straight you start the adventure in direction of the desert through dry and arid tracks. Crossing original and impressive landscapes: a first impression of a valley of Dades, which is also known as the valley of the human bodies, according to some visitors, for its beautiful Kasbahs. These giant rocks and landslips create a wonderful symphony of colours. Then, you leave towards the giants gorges of Todgha meanwhile passing through a fabulous valley offering splendid panoramic sights on gardens …….. Afterwards, you will have fun to be taken to the vast dunes of Erg chebbi. Eventually go up in camel rides up to the peak of the dunes, where you will enjoy so much the sunset view in the plain Sahara Desert.
Dinner and peaceful slumber in the bivouac under Nomadic tents.
Day 3: Erg Chebbi – Draa valley – Marrakech.
After an unforgettable quiet night among the sand dunes and in nomad's land, you will admire the sunrise upon the dunes. Then, a typical breakfast is served and you return back with camels to meet your driver and leave to Rissani. Next, you will cross the way taking you along Daraa valley, rich in palm trees up to Marrakech , via , Agdz, and Ouarzazate visiting the berebers villages and Kasbahs.