3 Days trip to Sahara desert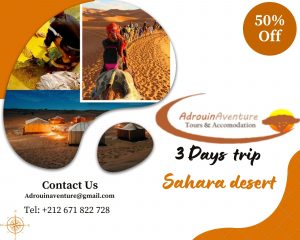 Day 1: Fes – Ifrane – Azrou – Midelt – Errachidia – Ziz valley – Erfoud – Erg chebbi
     After breakfast, you travel through the Mid Atlas Mountains, passing through changing landscapes and cultures on your way to Merzouga's desert. Then we travel into the middle Atlas cedar woods, passing via Ifrane, a picturesque ski resort, and Azrou, an important handicraft center specializing in cedar wood work. You arrive in Midelt for lunch after passing through the Zad pass (2,178m/7,146ft). Finally, in the afternoon, you will drive to Erfoud via Errachidia and the palm-fringed Ziz valley. Continue to Erg Chebbi's sand dunes, where we ride our camels to the camp.
    The camels are hobbled and mint tea is provided while an evening meal is prepared and eaten under the stars when you arrive at the desert camp and your nomad tent, which is customarily made of thick goat and camel hair. The camel guides usually drum and sing Berber songs after dinner. Night among the sparkling sky or in the nomad tent.
Day 2: Merzouga – Todra gorge- Rose  valley
     After an early morning wake-up call to witness one of the most spectacular sunrises, depart for Rose Valley. In fact, throughout this trail of hundreds of kasbahs, you'll discover huge red clay towers that resemble medieval European castles and fortresses. These Kasbahs blend in harmoniously with their surroundings, thanks to their imposing architectural style. The gorges of Todra and Dades are visited. Continue to Rose Valley for overnight hotel.
Day 3: Rose  valley – Imilchil – Midelt – Fes.
  You eat breakfast and head straight for the desert, passing through very dry and arid terrain and passing through unique and magnificent landscapes: a first view of the valley of Daddes, also known as the valley of the human bodies by some visitors because of its beautiful Kasbahs. These massive rocks and landslides form a colorful symphony. Then you depart for Todgha's colossal canyons, traveling through a spectacular valley with spectacular panoramic views of gardens. After that, you continue to Imilchil, which is a great destination to spend more than a day. After lunch, we begin another journey to Fez, going through Midelt and Bolmane.