7 Days Imperial cities tour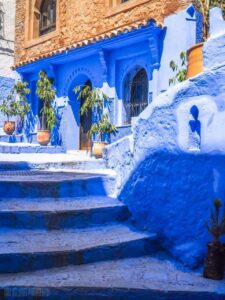 Day 1 : Casablanca – Rabat – Meknes :
   Welcome to Casablanca, Northern Africa's most colorful and cosmopolitan town… We'll pick you up from your accommodation and take you to the Hassan II Mosque before heading to Rabat. The Royal Palace Mechouar, the ruins of Chellah, the Mohammed V Mausoleum, and the Hassan Tower may all be visited in Rabat. We'll leave after lunch and arrive in Meknes in the early evening.
Day 2 : Meknes – Volubilis – Chefchaouen :
   We will leave Meknes after breakfast to explore Moulay Idriss' sacred city and the Roman ruins of Volubilis. We'll go through rural areas, passing through hills dotted with olive and fruit trees. We'll stop for lunch in Ouezanne before continuing on over the Rif Mountains to Chefchouen, the "blue village."
Day 3 : Chefchaouen :
  You will have a free day in Chefchouen to explore. You can explore the Kasbah's gardens and small museum, which houses a modest collection of old guns, instruments, fabrics, and historical images of the city lodges; there is also an art gallery within the walls. You can walk through the Medina to observe the incredible selection of stores or take one of the many walking trails that leave from the village.
Day 4 : Chefchaouen to Fes :
  You will have the morning free to relax or explore Chefchaouen further. We will leave early in the afternoon for Fes.
Day 5 : Fes City Tour :
   You will be taken on a guided tour of Fes' medina and famed Souks, which are lined with historic mosques and towering green-glazed minarets. You'll see some of Fes' most stunning palaces and monuments. The tour will include stops at a tannery and a ceramics cooperative to discover more traditional Moroccan crafts.
Day 6 : Fes – Ilfrane – Azrou – Marrakech :
   We will go across the Middle Atlas region to Marrakech after breakfast. We'll drive  to Ifrane, Morocco's "Switzerland," and the cedar forests of Azrou, where we'll get the opportunity to hand-feed the monkeys. We'll keep going till we arrive in Marrakech. We'll arrive in Marrakech in the afternoon and begin our exploration of the city. Marrakech is the meeting place of Arab city culture and Berber mountain village culture; it is here that tired sub-Saharan traders (bringing gold, salt, and slaves) would sell their commodities to merchants who would subsequently transport them to Europe. We'll go to Djemaa el Fna Square today, which will be filled with storytellers, snake charmers, acrobats, musicians, and traditional dancers. In Marrakech, spend the night.
Day 7: Marrakech
  Marrakech throws a magical spell, framed by the snowy peaks of the Atlas, with rose-colored ramparts and a thousand-year-old palm grove. After breakfast, we'll begin our exploration of Marrakech's allure: the Menara Gardens and the Koutoubia Mosque. The things to see include the Saadian Tumbs, Bahia Palace, and Dar Si Said Museum. Afternoon free to explore more of this fascinating city.